Scenic Park history
Most of this area's history takes place behind the relatively young dune belt. The dunes themselves were used by the Germans as coastal defences during the two world wars, as part of the Aachen and Saltzwedel Neu batteries in the Atlantikwall.
Leopold II purchased the area in 1902, and it became a Royal Domain. Among other things, a Norwegian chalet and stables were built. The park with its pond was laid out in 1906. The domain, which was part of the Royal Trust, was later systematically expanded by Albert I and Prince Karel.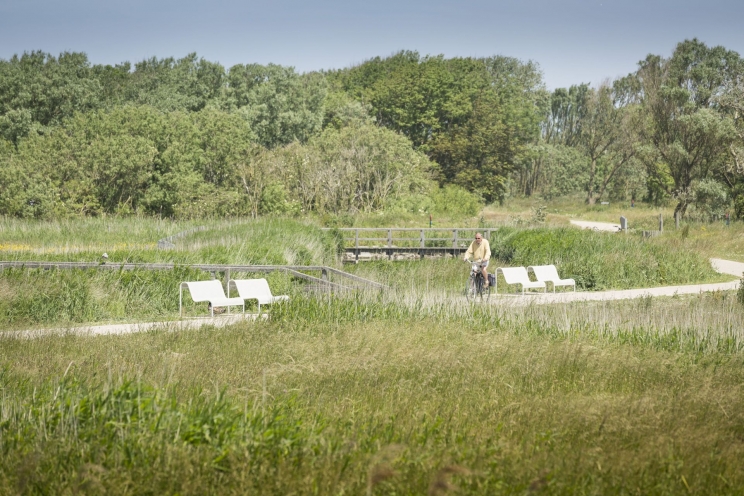 The Aachen Battery was built during the First World War and the Atlantic Wall was expanded during the Second World War, in the dune belt in both cases. After the Second World War, Prince Karel took up residence in the domain and further expanded the park. In 1981 Prince Karel sold the domain to the Belgian state; it has been managed and further expanded by the Province of West Flanders since 1988. In the late 1990s, the southern part of the area was largely redesigned, with the extension of the archaeological site and the leisure park.
In 2014, the Province of West Flanders completely redesigned the area east of the Atlantikwall and ANNO 1465 as a scenic parc. The extensive grasslands were restored and more areas of vegetation, woodland and water bodies were introduced. Attractive walking and cycling paths were laid out, as well as a playground with play equipment and later also a dog-walking field. The old recreational zone and eastern car park disappeared. In late January and early February 2015, 20,000 new plants were planted, including 15,500 trees. These now have the space to grow.