Aachen Battery
The Aachen Battery is the only German First World War coastal battery of which enough structures have survived to obtain a fine, comprehensive picture of the coastal defences in 1914-18.
The Aachen Battery was built in the former Royal Domain, established by King Leopold II in 1903. Work on the battery started on 8 January 1915, and the structure was operational at the end of April 1915. You can still make out the four artillery platforms, with an observation bunker on either side. The western observation bunker also served as a command post, and eventually also came to be used by the Deutschland Battery in Bredene. The guns were placed under heavy steel domes for protection. The artillery positions were connected by means of a narrow-gauge railway to the various ammunition depots, which were well concealed in the dunes. At the observation post you can still see the original telemeter, which was used to determine the distance to possible targets at sea. A section of trench and the bombproof shelter have also been preserved. The wooden buildings, including artillery crew quarters, officers' quarters, a guard post and a first aid post, have disappeared.
One of the battery's three wells was located at its Duinenstraat entrance.  A small monument was built here, named after the patron saint of gunners: St Barbara. 'Barbara Brunnen' can still be seen today. Another entrance was situated on the sea front promenade, Zeedijk, and a gate still stands there today.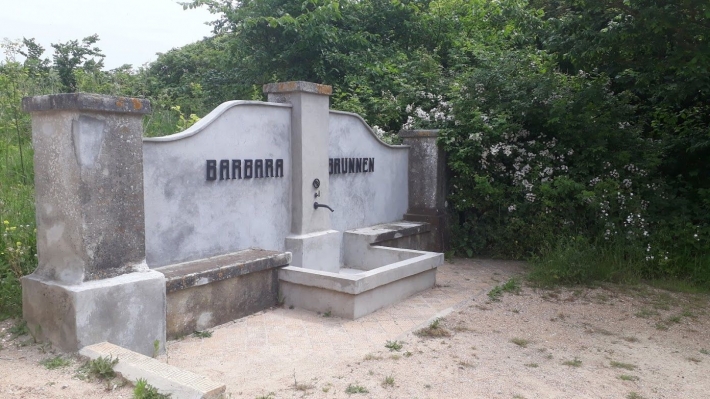 After the war and the death of King Albert I of Belgium, his son, Prince Charles, took an interest in the Royal Domain. However, it was only after his regency came to an end in 1950 that he settled there permanently. It is thanks to him that the Aachen Battery (WWI) and the other structures dating from the Second World War have been preserved so exceptionally well. He made sure that nothing was demolished, so that everything could be restored after his death. The Aachen Battery is now also listed as a monument.